Michele Bachmann will not seek re-election to Congress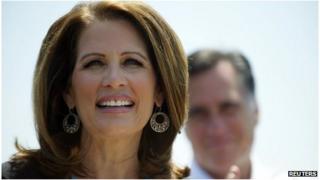 Republican Congresswoman Michele Bachmann will not seek re-election to the House of Representatives in 2014, she has announced.
The Tea Party leader, who represents a constituency in Minnesota, said her decision was not influenced by probes into her 2012 presidential campaign.
Mrs Bachmann added she was unconcerned about her prospects for re-election.
Though a backbencher in Congress, Mrs Bachmann has risen to prominence as a critic of President Barack Obama.
"The law limits anyone from serving as president of the United States for more than eight years," Mrs Bachmann said in an eight-and-a-half minute video posted to her website on Wednesday morning.
"And in my opinion, well, eight years is also long enough for any individual to serve as a representative for a specific congressional district."
'No re-election concerns'
Mrs Bachmann's 2012 presidential campaign is the subject of inquiries into whether a campaign adviser received improper payments, including with funds from a conservative fundraising committee.
The Minnesota lawmaker said the probes had not influenced her decision.
Nor is her move related to the announcement that Jim Graves, the Democrat whom she narrowly defeated in 2012, was running again, she added.
"Be assured: my decision was not in any way influenced by any concerns about my being re-elected," she said.
But Mrs Bachmann pledged to keep fighting for the principles that have made her so popular with the conservative branches of her party, especially the populist anti-tax Tea Party movement.
"To my detractors, my work continues for your best interest as well," she said.
Mrs Bachmann rose to prominence criticising Mr Obama in 2008, when he was a senator running for the Democratic presidential nomination. She called him "un-American" in a TV interview.
She became a leading figure in the Tea Party after founding the House of Representatives Tea Party caucus in 2010.
In her 2012 campaign for the Republican presidential nomination she led the pack early on with her blend of evangelical Christian social conservatism and fierce anti-tax rhetoric.
But she faded quickly, placing a distant sixth in the Iowa caucuses, the first contest of the race.
Also in 2012, Mrs Bachmann acquired a Swiss passport through her husband, but relinquished her Swiss citizenship days later.
And she came under fire from fellow Republicans for suggesting that an aide to former Secretary of State Hillary Clinton had family connections to Egypt's Muslim Brotherhood.