Oldest US senator New Jersey's Frank Lautenberg dies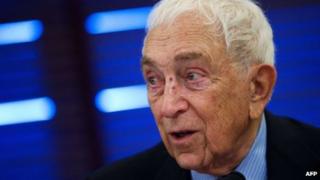 New Jersey Senator Frank Lautenberg, America's oldest senator, has died from complications of pneumonia, aged 89.
He served five Senate terms over three decades, helping pass laws raising the drinking age, ending smoking on planes and raising funds for mass transit.
The multimillionaire Democrat began his career as the co-founder of Automatic Data Processing, now one of the largest payroll services firms in the world.
Lautenberg was also the Senate's last World War II veteran.
His appearances in the Senate in recent months were limited due to health issues, but he voted on gun control legislation in April, an issue he had strongly supported.
In a statement, President Barack Obama said he and the first lady were "deeply saddened" to learn of the senator's death, calling him "a proud New Jerseyan who lived America's promise as a citizen, and fought to keep that promise alive as a senator".
Potential special election
Lautenberg died shortly after 04:00 local time (08:00 GMT) on Monday at a New York City hospital.
He was first elected in an upset victory in 1982, financing the campaign with his own money. He retired from Congress in 2000, but was recruited to run for his former seat in 2002.
In February, Lautenberg announced he would not seek a sixth term in 2014.
During his time in the Senate, he was a defender of Amtrak, which operated a regional train service through his home state, as well as Superfund, a programme that paid for the cleanup of environmentally hazardous sites.
Lautenberg was also an agitator against tobacco companies and the gun industry, writing several pieces of firearms legislation, some of which passed.
"Until the very end of his life, Frank made the trip from New Jersey to DC to fight for the issues he believed in and the people he represented," Patty Murray, a Democratic senator from Washington, said in a statement.
"He gave everything he had to public service."
New Jersey Governor Chris Christie is expected to name a fellow Republican to replace Lautenberg until a new senator is elected by the state's voters.
Cory Booker, the mayor of Newark, New Jersey, had already raised $2m (£1.3m) to run for the seat in 2014. A special election may be called earlier than next November.
Lautenberg, who was the son of Polish and Russian Jewish immigrants, had served in World War II with the Army Signal Corps.
With the help of the GI bill, he received an undergraduate degree in economics from Columbia University.
Lautenberg is survived by his wife Bonnie, and four children from his first marriage, which ended in divorce in 1988.