Mississippi ricin suspect James Dutschke indicted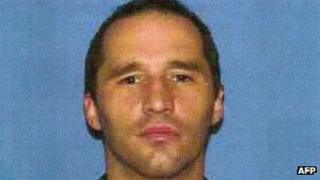 A man in the US state of Mississippi has been indicted for allegedly sending letters laced with ricin to President Barack Obama and two other officials.
James Dutschke faces five counts of developing, producing and storing the poison, threatening the president and obstructing the inquiry.
The 41-year-old could face life in prison and heavy fines if convicted.
Authorities initially arrested a local Elvis impersonator over the letters but charges were dropped six days later.
Paul Curtis, 45, said he thought he had been framed. He and Mr Dutschke knew each other but had fallen out, according to US media reports.
The grand jury indictment was filed against Mr Dutschke on Friday.
His lawyer, George Lucas, told the Associated Press news agency in an email on Monday that his client would plead not guilty to each of the five charges.
Mr Dutschke was arrested on 27 April in Tupelo, Mississippi, and is accused of sending letters to the president, Mississippi Senator Roger Wicker and Lee County Judge Sadie Holland on 8 April.
In separate cases recently, letters containing ricin have been sent to New York Mayor Michael Bloomberg, to President Obama and to the CIA.
Ricin is a naturally occurring protein found in the castor oil plant that is highly toxic. It is 6,000 times more poisonous than cyanide.