Napster's Sean Parker in $2.5m wedding venue settlement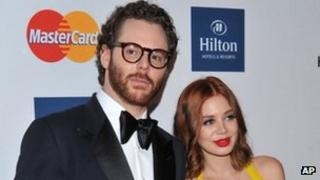 US entrepreneur Sean Parker has agreed to pay $2.5m (£1.6m) for building a huge wedding venue in an ecologically sensitive area of California.
The 33-year-old Napster co-founder and former Facebook president reached the settlement with the California Coastal Commission.
This comes after Mr Parker had built the movie-set-like wedding site near the state's famous redwoods in Big Sur.
He spent $10m on the wedding last weekend to singer Alexandra Lenas.
Mr Parker reportedly built a cottage, fake ruins, ponds and a special dance floor for the wedding.
He later agreed that the building works had been done without proper permits from the state, according to Associated Press news agency.
In a statement, Coastal Commission executive director Charles Lester said that "Mr Parker has been extremely co-operative... to reach this resolution".
Mr Parker, whose net worth is estimated to be $2.1bn, also reportedly asked his wedding guests to make donations to local conservation charities.