Ohio university head quits after remark about Catholics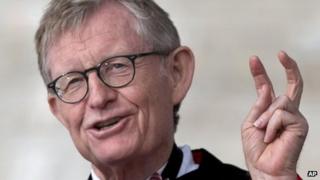 The president of Ohio State University has announced he will retire after an off-colour joke about "those damn Catholics" at a rival college.
Gordon Gee, 69, had earlier apologised for that and other comments, which became public last week.
The university last week called the remarks "wholly unacceptable", but stopped short of firing him, putting him instead on a "remediation plan".
Mr Gee, who earns about $1.9m (£1.2m) annually, will step down in July.
At a 5 December meeting, Mr Gee joked about why Notre Dame, a Catholic university, had never been invited to join the Big Ten athletic conference, a prestigious US college sports league.
A recording of the meeting was obtained under a public records request by the Associated Press news agency.
'Holy hell'
"The fathers are holy on Sunday, and they're holy hell on the rest of the week," Mr Gee said, in apparently tongue-in-cheek remarks.
"You just can't trust those damn Catholics on a Thursday or a Friday."
He also poked fun at the academic ability of the University of Louisville and the Southeastern Conference, another college sports league.
On Tuesday, he said that "after much deliberation" he had decided "to turn over the reins of leadership".
Mr Gee, a Mormon, has previously spoken of the importance of interfaith dialogue.
He has come under fire for other gaffes during his time in the job, which he has held since 2007 and between 1990-97.