Komen breast cancer charity cancels three-day events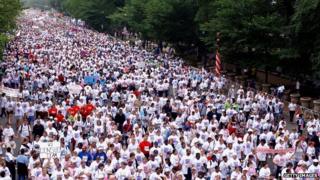 A prominent US breast cancer charity has cancelled half of its three-day fundraising road races in 2014 amid a steep drop in participation.
The move by Susan G Komen for the Cure comes a year after the charity sought to cut funding for Planned Parenthood women's health clinics.
The Komen organisation suffered a backlash but put the participation decline down to the struggling economy.
Planned Parenthood has been a target of anti-abortion conservatives in the US.
On Wednesday, Susan G Komen for the Cure said the events would be cancelled in Arizona, Boston, Chicago, Cleveland, Tampa Bay, San Francisco and Washington DC.
Other events will not be cut back.
'A little more dramatic'
"The difficult decision to exit these markets was not made lightly, as we know this bold and empowering event has touched the lives of thousands of participants like you," the group said in a statement announcing the move on its Facebook page.
"Participation levels over the last four years have made it difficult to sustain an event of this magnitude in 14 cities."
Komen spokeswoman Andrea Rader said the events had seen a 37% decline over the last four years but acknowledged that the drop was "a little more dramatic" last year.
Following the February 2012 outcry over the group's decision to cut its contributions to Planned Parenthood, which provides a range of health services to women including abortion, Komen reversed its decision.
Ms Rader said the "vast majority" of people had moved on from the controversy.
"There are some folks who will never be back and we know that, and we hope that they will support breast cancer charities because the work's important," she said.
Participants in the races must raise at least $2,300 (£1,499) to walk 60 miles (96km) over three days.
A majority of participants take part only once, Ms Rader said.