Eric Holder: US 'will not prosecute reporters'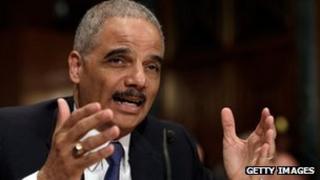 US Attorney General Eric Holder has said the justice department will not prosecute journalists for doing their jobs as long as he is in office.
Mr Holder told a Senate panel the department's investigations focus on prosecuting officials who have leaked secret information to the media.
His department is facing questions over its seizure of phone records and emails from journalists.
Officials took information from the AP and Fox News through secret warrants.
The Obama administration has defended the practice, arguing the leak that prompted the seizure of Associated Press (AP) phone records put the US at risk.
"It put the American people at risk, and that is not hyperbole," Mr Holder, who had removed himself from the AP case, said last month. "It put the American people at risk."
Mr Holder has also held meetings with news organisations to review the justice department's practices.
But several major news organisations, including the New York Times, AP and Fox News, have refused to attend as the meeting was off-the-record.