Chris Christie names temporary New Jersey senator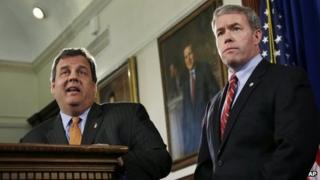 New Jersey Governor Chris Christie has appointed the state's attorney general to temporarily replace the late Senator Frank Lautenberg.
A longtime colleague of Gov Christie, Jeffrey Chiesa, 47, has never run for political office.
The governor has scheduled a special election in October for the rest of the Democrat's term. Mr Chiesa says he will not run in that ballot.
Mr Chiesa will be New Jersey's first Republican in the chamber since 1982.
"I will try to contribute in any way I can," the attorney general said on Thursday.
He has worked with Mr Christie in a number of jobs, including private legal practice and the US attorney's office.
Whoever wins this October would have to stand again during a regular election in November next year to keep the seat for a full six-year term.
Representative Rush Holt, a Democrat, says he will run for the Senate seat.
"I believe I am the best candidate to continue the passionate advocacy for progressive values that Senator Lautenberg exemplified," he said in an email to supporters.
The name of two other high-profile Democrats, Representative Frank Pallone and Newark Mayor Cory Booker, have previously been linked to the 2014 election.
The only Republican in the race so far is Steve Lonegan, former mayor of the New Jersey borough of Bogota. He has twice sought the Republican nomination for governor.