World media fume over secret US spying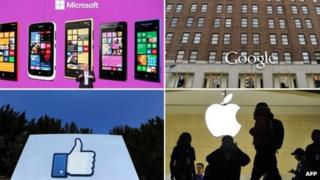 Media across the globe are almost unanimous in condemning US President Barack Obama's administration over its top-secret intelligence project recently revealed by an ex-CIA employee.
Commentators see the programme, code-named Prism, as a violation of privacy of "Orwellian" and even "gargantuan" proportions.
They also accuse President Obama of failing to deliver on his campaign promise of defending individual freedoms.
But one newspaper in Israel is surprised at the uproar, arguing that such intelligence gathering is something Israelis are long used to.
China's Shanghai-based Liberation Daily
"Five years ago, Obama came to power waving an 'anti-George W Bush' banner. Five years later, he is still exactly the same as George W Bush on invasion of privacy issues."
China's Wen Wei Po, a Beijing-backed Hong Kong newspaper
"The secret surveillance scandal has exposed once again the US government's double standards on the issues of human rights, freedom and counter-terrorism."
Russia's pro-government tabloid Komsomolskaya Pravda:
"People do not realise that Google, Facebook and other resources are not just social networking websites and chat rooms, but active spy programmes."
Commentary in Russia's centrist daily Nezavisimaya Gazeta:
"Why tap into emails and phone calls if terror attacks happen anyway, like the one organized by the Tsarnaev brothers in Boston? You thus get something of an Orwellian state which tries to execute total control but at the same time does not protect people from the threats in the name of which it violates the basic principles."
Commentary in Russia's pro-government daily Izvestiya:
"Fears about the establishment of a 'cyber-police' state that inspire the authors of grim dystopias and Hollywood blockbusters have been brought to life... The frightening reality of the 21st Century is that the world has become a house with glass walls, the notions of 'personal secrets' and 'confidential information' are turning into fiction before our very eyes."
Pakistan's conservative daily The Nation:
"The US is engaged in one of the most gargantuan efforts ever, of one country carrying out e-surveillance of another, on Pakistan... Such intrusive and indiscriminate surveillance by the state represents a violation of individual privacy, as well as of overbearing, broadly spread suspicion, without any explanation."
Pakistan's moderate daily The Express Tribune:
"This means, of course, that through the use of technology, every email, Facebook, Skype or other interaction any of us has over the electronic media can be monitored in Washington. This, of course, is a blatant violation of privacy... The matter is a serious one; it cannot be ignored."
India's English-language daily The Hindu:
"Turning his back on the campaign promises he made in 2008, Mr Obama has systematically exploited 'counterterrorism' measures instituted by his predecessor after 9/11 and covertly expanded their application on an unprecedented scale. It is replete with irony that his administration is vigorously prosecuting conscientious leakers such as [Wikileaks informer] Bradley Manning or media groups like the Associated Press, even as it taps the phone and internet records of millions of people around the world."
India's independent daily The Tribune:
"In the present security environment it might be foolhardy to expect privacy, more so in the cyber world where the Orwellian Big Brother is certainly watching. Anyone who puts anything on the Net should well consider the possibility of the material being intercepted, by the government or worse still, by those with a criminal intent. The 9/11 terrorist attacks have changed the environment where cyber snooping is now defendable, even acceptable."
Editorial in Saudi pro-government daily Al-Watan:
"The US monitoring of internet servers has embarrassed America and triggered a storm of international criticism... The world is on the brink of an electronic war after the US violated the most basic of civil rights, which it allegedly fights the world to defend and preserve."
Website of Jordan's independent daily Al-Ghad:
"The great surprise was that Jordan was the third-ranking country in terms of the number of intelligence reports gathered in one month... It seems that friendship is one thing and security interests another... The best thing to do, then, is speak out. Perhaps they are listening in America."
Commentary in Israel's centrist Ma'ariv:
"What is seen in the US as a stunning admission by the administration that it spies on its citizens is seen by Israelis as basic intelligence-gathering... In Israel, the struggle against terrorism has been an existential matter for decades. Despite this, most Americans have not yet realised that in order to expose the formation of terror groups beforehand (rather than investigate terror attacks afterwards) one has to infringe on public privacy."
BBC Monitoring reports and analyses news from TV, radio, web and print media around the world. For more reports from BBC Monitoring, click here. You can follow BBC Monitoring on Twitter and Facebook.