Michael Bloomberg unveils $20bn storm protection plan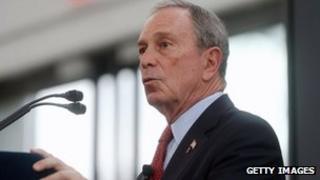 The mayor of New York City has unveiled a $20bn (£12.8bn) plan to protect the coastal city from flooding after a devastating October storm.
Mayor Michael Bloomberg's plan recommended a system of levees, gates and other flood defences in low-lying areas across the city.
About $10bn of city and federal money was already allocated for rebuilding after "Super Storm" Sandy.
The storm killed 40 people in New York and flooded large areas of the city.
The mayor's report, entitled A Stronger, More Resilient New York, offered 250 specific recommendations for protecting the city against storms and flooding.
Those included building dunes in the borough of Staten Island and in parts of the Rockaways coastline in Queens, floodwalls and levees in the Bronx borough and along Manhattan island's east side and southern tip, as well as stone or concrete bulkheads in flood-prone neighbourhoods across the city.
'New realities'
The mayor also called for up to $1.2bn to be given to home owners to pay for protections on their properties, and $50m to nursing homes to upgrade their facilities.
"This is urgent work, and it must begin now," Mr Bloomberg said in Brooklyn on Tuesday.
He noted that the work of building protections would outlast his tenure as the city's mayor, which is due to end later this year.
"Piece by piece, over many years and even decades, we can build a city that's capable of preparing better, withstanding more and overcoming anything," he said.
Mr Bloomberg acknowledged some of the measures might be controversial - and could block views of the sea.
"If we're going to save lives and protect the lives of communities, we're going to have to live with some new realities," he said.
Sandy, which ravaged the US East Coast in October, caused billions of dollars of property and infrastructure damage across several US states.