Ariel Castro pleads not guilty to rape and kidnap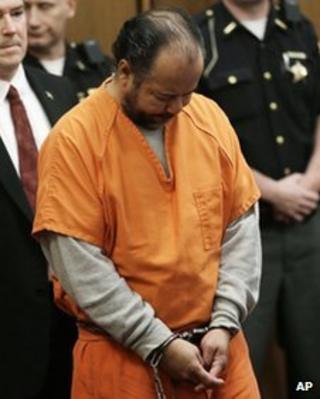 A man accused of imprisoning three women for about a decade in his home in Cleveland, Ohio, has pleaded not guilty to charges of rape and kidnapping.
Ariel Castro, 52, said nothing as he appeared briefly to be arraigned on 329 counts, including 139 of rape, 177 of kidnap and two of aggravated murder.
But the defence appeared to hint of a possible plea deal if prosecutors rule out the death penalty.
The women were Michelle Knight, 32, Amanda Berry, 27, and Gina DeJesus, 23.
The murder charges relate to Mr Castro allegedly starving and beating one pregnant captive until she miscarried.
Defence lawyer Craig Weintraub said after Wednesday's hearing: "Mr Castro currently faces hundreds of years in prison with the current charges.
"It is our hope that we can continue to work toward a resolution to avoid having an unnecessary trial about aggravated murder and the death penalty."
The accused, a former school bus driver, is in custody on $8m (£5m) bail. His indictment runs to 142 pages.
Last week he was taken off suicide watch in jail.
Ms Berry, who disappeared in 2003 the day before her 17th birthday, escaped on 6 May from Mr Castro's home, along with her six-year-old daughter born in captivity.
The other women were then freed from the house. They were all reportedly abducted after accepting car rides from the accused.
Ms Knight vanished in 2002 when she was 20. Ms DeJesus was 14 when she went missing in April 2004.