James 'Whitey' Bulger was 'hands-on killer'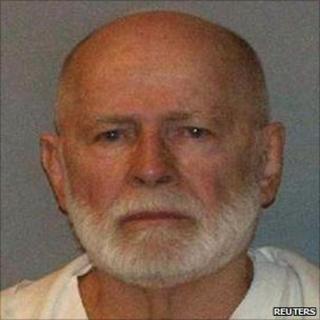 An accused Boston mobster who spent 17 years on the run from US authorities was a "hands-on killer", a prosecutor has said at the start of his trial.
James "Whitey" Bulger, 83, denies 19 counts of murder, running crime schemes and corrupting officials.
Prosecutors told the court he brought "murder and mayhem" as leader of Boston's Winter Hill Gang in the 1980s.
He was an inspiration for the gangster played by Jack Nicholson in Oscar-winning 2006 film The Departed.
'No ordinary leader'
The trial in federal court in the US state of Massachusetts is expected to last for months and feature testimony from more than 100 witnesses including alleged victims, criminal partners and law enforcement officials.
Bulger - who was arrested in 2011 in Santa Monica, California, where he had been living with his girlfriend - could face life in prison if convicted.
Federal prosecutors say Bulger once terrorised South Boston, a formerly working-class, Irish-Catholic neighbourhood.
"It's a case about organised crime, public corruption and all sorts of illegal activities ranging from extortion to drug dealing to money laundering, to possession of machine guns to murder," Assistant US Attorney Brian Kelly told the court.
"While he started out as just one member of the enterprise, eventually he took control. He became the leader.
"And he was no ordinary leader because he did the dirty work himself. He was a hands-on killer."
Indicating the defendant, Mr Kelly told the court: "At the centre of all this murder and mayhem is one man."
The government is reportedly planning to ask one family member of each of the 19 alleged victims to testify during the trial.
Among the alleged victims were two 26-year-old women Bulger is accused of strangling.
Mr Kelly also said Bulger had chained government informant John McIntyre to a chair, interrogated him at gunpoint for hours, then tried to strangle him with a rope.
When that did not kill him, Bulger asked McIntyre if he wanted a bullet in the head, the prosecutor said. The response: "Yes, please." Bulger obliged, Mr Kelly said.
Prosecutors are also expected to show the jury a 700-page file the government kept on Bulger's alleged activities.
The documents are said to show that the accused worked as an informant providing authorities with tips about a rival gang, the New England Mob.
Bulger and his associates intimidated other criminals into working with them and paid law enforcement officials to warn if they were being investigated, the court heard.
"It was part of a strategy they had, and it worked for them," said the prosecutor.
In his defence on Wednesday, Bulger's lawyer called into question the credibility of the prosecution's star witnesses - turncoat ex-gangsters.
Each of the three former mob members who have accused Bulger of murders received "extraordinary" deals from prosecutors in exchange for their co-operation, defence lawyer JW Carney said.
Bulger's legal team also denied he informed on other criminals to the FBI, saying a corrupt handler, John Connolly, had fabricated Bulger's lengthy informant file to account for the fact he was regularly seen meeting him.
"The worst thing an Irish person could consider doing is becoming an informant," Mr Carney said.
He accused one of the informants, Stephen Flemmi, of killing the two women and pinning the murders on Bulger after the latter had fled Boston.
The defence conceded that Bulger had been involved in illegal gambling and drugs.
But his legal team is expected to emphasise their client's softer side as a community hardman who would serve up holiday meals to neighbours.
Bulger fled Boston in 1994 after Connolly warned him authorities were about to indict him. Connolly was later jailed for tipping off the defendant.