Rupert Murdoch divorce: An agony aunt's advice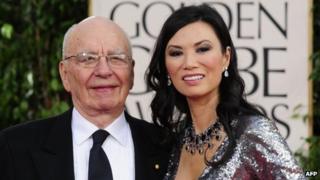 As an advice writer now in my 10th year of the Ask Amy column, I've witnessed my share of marital discord, infidelity, and marriages done in by matters as large as domestic violence - or as small as Facebook postings.
I cannot save anyone's marriage - not even one of my own - but I do know this: how a couple manages their divorce will resonate far beyond their once-happy wedlock.
When a family splits, people tend to talk about the children and yet the needs of the children often come last - well behind the self-serving desires of the grown-ups.
As the child of divorce and also a mother who divorced, I know absolutely what many divorcing parents would like to deny - that children value their own happiness over the happiness of their parents.
If the Murdochs were ever to come to me for advice, I would tell them that good behaviour during and after a split (even if parents have to fake it) will give kids a fighting chance to carve out their own emotionally healthy and resilient reality.
And yet children are often treated as property (especially valuable property in this case, since the Deng-Murdoch daughters - ages 11 and 9 - own stock in News Corp).
A childhood can be ruptured by divorce, and unlike adults who can choose to get a fresh start and partner with someone else, kids can't really choose different parents - they can only move between them.
The difference between an amicable and an ugly divorce among the mega-wealthy is as stark as the gulf between Max Spielberg and Christina Onassis.
Spielberg is the son of Hollywood director Steven Spielberg and actress Amy Irving.
His parents' then-unprecedented $100m (£63m) split happened in 1989.
The two parents kept quiet, amicably shared custody of the child, and he is now a 28-year-old man who steers clear of tabloid trouble.
Christina Onassis, daughter of Aristotle Onassis and his first wife, had four marriages - all ending in divorce. She died of an overdose at age 37, depressed and alone.
Murdoch, whose previous divorce from his second wife is said to have cost him up to $1.8bn, will pay dearly for this union, too.
The couple reportedly has a pre-nuptial agreement, but Wendi is also a shareholder of News Corp.
Murdoch's own future romantic prospects are not necessarily grim. If he lives as long as his mother (who died last year at age 103), he will have 20 more years to meet, date, and marry again.
If he dares walk down the aisle again, he would be wise to remember a truth I have learned through 10 years of studying the vicissitudes of the human heart.
First marriages are the triumph of love over reason.
Second marriages are the victory of lust over experience.
Subsequent marriages are really all about estate planning.