Arizona voter registration law illegal - US Supreme Court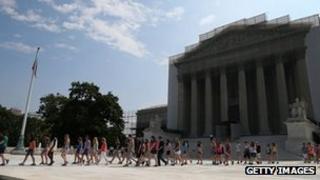 The US Supreme Court has ruled that states cannot force residents to show proof of American citizenship when they register to vote.
In a 7-2 decision, the justices ruled a 2004 Arizona law was trumped by federal law.
The Supreme Court said it was enough to ask prospective voters to tick a box on forms declaring they are US citizens, without demanding documentary proof.
It is Arizona's latest immigration-related law to reach the top court.
The state is in frequent legal clashes with the federal government over the issue.
Four states have similar laws and 12 more have been considering such measures.
In the majority ruling, Justice Antonin Scalia wrote that a 1993 federal law designed to make it easier to register to vote took precedence over Arizona's requirement.
The 1993 law requires states to offer voter registration when a resident applies for a driver's licence or certain benefits.
On the federal form, applicants are asked to state under oath that they are US citizens, on penalty of perjury.
But Arizona argued such assurances were not enough in their state, which borders Mexico.
The state's 2004 law added a requirement that applicants provide a US birth certificate, passport or other proof of citizenship.
Justice Scalia said the federal law "precludes Arizona from requiring a federal form applicant to submit information beyond that required by the form itself".
Immigrant rights groups, who said the law put an undue burden on naturalised citizens, hailed the decision.
The ruling "sends a strong message that states cannot block their citizens from registering to vote by superimposing burdensome paperwork requirements on top of federal law," said Nina Perales of the Mexican American Legal Defence and Education Fund.
Part of the concern was that while the regular form can be mailed in, federal law prohibits copying naturalisation documents for proof of citizenship, forcing those citizens to apply in person.
Two of the court's more conservative members, Justices Clarence Thomas and Samuel Alito, dissented.
The US constitution "authorises states to determine the qualifications of voters in federal elections", Justice Thomas wrote in his dissent.
Kathy McKee, who led the push to have the requirement enacted into law, said the ruling would make it harder to combat voter fraud.
"To even suggest that the honour system works, really?" Ms McKee said. "You have to prove who you are just to use your charge card now."