Angelina Jolie double in News Corp 'phone hack' claim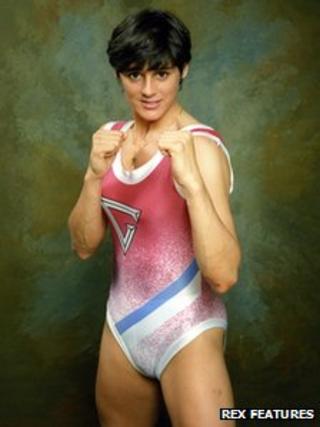 A former Hollywood stunt double has sued News Corp and its subsidiary News International, accusing the companies of ordering the hacking of her phone.
The suit, the first such claim from the US, was filed by Eunice Huthart, a British former double for Hollywood star Angelina Jolie.
In the suit, the Liverpool resident alleges messages from family, friends and Ms Jolie were intercepted and in some cases deleted.
News Corp declined to comment.
In a civil complaint filed on 13 June, Ms Huthart seeks damages for violations of federal and California laws and "intrusion into private affairs".
'Close friend'
According to IMDB, Ms Huthart worked as Ms Jolie's stunt double on the films Wanted, Mr and Mrs Smith, and Lara Croft: Tomb Raider.
In the court filing, she describes herself as a close friend of Ms Jolie, and says the pair "often travelled and socialized together".
Ms Huthart said that in 2004-05, some friends and relatives complained she had not returned their phone calls, and she in turn complained to her mobile phone provider that voice messages were being lost in their system.
She said Ms Jolie left messages concerning travel arrangements and other plans, which Ms Huthart never received.
She added that her daughter left messages complaining about bullying in school in Liverpool, which she also never received - rendering her unable to console her daughter. Ms Huthart said her husband had also criticised her for not responding to his messages.
Ms Huthart says her name, telephone number and other private information appeared in the notes of Glenn Mulcaire, the private investigator who worked for News Corp's News of the World and was jailed in January 2007 for unlawfully intercepting voicemail messages received by royal aides.
Ms Huthart "believes that they were hacking her cellular telephone as a means to obtain information about Ms Jolie", says the court filing.
Phone hacking arrests
According to the suit, The Sun newspaper published several news stories based on information illicitly obtained from Ms Huthart's mobile phone messages.
Revelations about phone hacking in the UK led News Corp boss Rupert Murdoch to close the News of the World newspaper in July 2011.
The investigation into phone hacking claims and payments to public officials for information has led to scores of arrests of journalists, police officers and other public officials.
Among those charged were Rebekah Brooks, a former News International executive, and Andy Coulson, former News of the World editor and ex-communications chief for UK Prime Minister David Cameron.
UK police have identified more than 4,000 possible victims of phone hacking included politicians, celebrities, actors, athletes, relatives of dead UK soldiers, and victims of the 7/7 London bombings.
The suit comes days before News Corp is to be split into two companies, one for its entertainment assets and the other for its publishing business. Mr Murdoch is to be chairman of both firms.