Times Square takes yoga time-out on summer solstice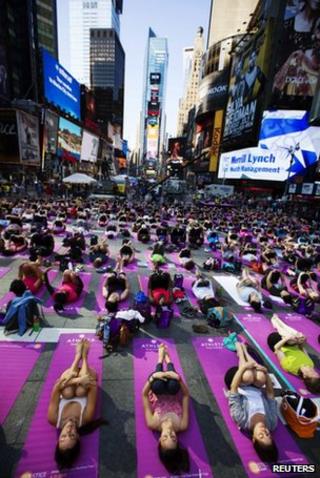 New York's Times Square, one of the world's busiest crossroads, has come to a standstill to allow yoga enthusiasts to mark the summer solstice.
The Manhattan square became a sea of yogis exercising in time on their mats, beneath the billboards.
Tim Tompkins, co-founder of event, said part of its appeal was finding stillness and calm amid the city rush on the longest day of the year.
Into its 11th year, the event has grown from three people to more than 15,000.
Free yoga classes began at 07:30 local time (11:30 GMT) and were due to continue until sunset.
The oldest of the teachers in the square was 94, the AFP news agency reported.
"Yogis on the screens in Times Square!" one woman wrote on Twitter.
"Amazing way to start the summer!"