IRS used 'broad spectrum' of phrases for extra scrutiny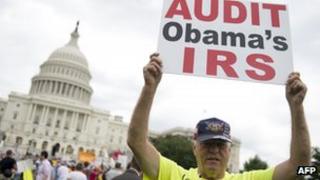 The US tax agency used a "broad spectrum" of political keywords to select groups for further scrutiny, its new chief has said.
Danny Werfel said he had ordered a halt to the use of such phrases in screening applications for tax-exempt status.
The Internal Revenue Service had earlier acknowledged targeting groups with conservative watchwords "Tea Party" or "patriot" in their names.
But it has now been revealed liberal groups were targeted as well.
In recent months, the Internal Revenue Service (IRS) acknowledged that agents in the office that screens organisations' applications for tax-exempt status used several so-called "be-on-the-lookout" (BOLO) lists when deciding which needed additional scrutiny.
"Tea Party" and "patriot" in the US political lexicon have come to signify a conservative orientation, and US conservatives and their Republican allies in Congress have claimed the IRS and the Obama administration were inappropriately harassing groups for their political beliefs.
But documents obtained by the Associated Press and revealed on Monday suggest such BOLO lists went beyond Tea Party groups, including such terms as "Israel", "progressive" and "Occupy". "Occupy" and "progressive" typically indicate a left-leaning orientation.
Step toward accountability
"We did determine and discover there are other BOLO lists in place," Mr Werfel told reporters on Monday. "There was a wide-ranging set of categories and cases that spanned a broad spectrum."
Also on Monday, the agency said it was expediting handling of tax-exempt applications from any group whose application had been delayed more than 120 days and who had requested a follow-up.
In a statement, the White House called the report an "important step in ensuring accountability for any staff that acted inappropriately".
"The administration is committed to making sure the IRS continues to reform itself with the goals of providing the highest quality service and reflecting the principles of fairness and neutrality," White House spokesman Jay Carney said.
The report comes shortly after Mr Werfel was named IRS commissioner, and is part of an effort to allay concerns over the agency's practices.
The agency has apologised for giving extra scrutiny to some groups based on the BOLO lists but denies its staff had political motivations.
A treasury department inspector general report earlier this year found that 296 groups had been subjected to additional auditing.
In those cases the IRS may have asked for lists of donors, the groups' positions on a range of issues, and whether the groups' senior members intended to run for public office. Many of the applicants faced considerable delays in obtaining tax-exempt status, but none were turned down.
'How widespread?'
The agency has said it was inundated with new applications starting in 2010 from groups seeking tax-exempt status, after the US Supreme Court loosened restrictions on political spending by organisations unaffiliated with candidates' campaigns
Under US tax law, "social welfare" groups may apply for tax-exempt status but cannot engage primarily in political activity - a criterion that led to calls for careful review of the applications.
Some Republicans, who have been unsuccessful in their attempts to pin the IRS matter on the White House, said that many questions remained unanswered.
"The IRS still needs to provide clear answers... who started this practice, why was it allowed to continue for so long, and how widespread was it?" said Representative Dave Camp.
Mr Werfel is set to testify in the House ways and means committee, where Mr Camp is the chairman, on Thursday.