Ed Markey wins vacant Massachusetts Senate seat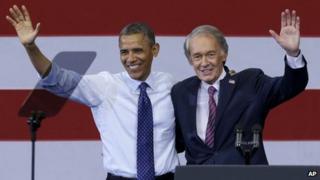 Democratic Representative Edward Markey has won election to Secretary of State John Kerry's former Senate seat.
Mr Markey, a 37-year veteran of Congress, beat Republican Gabriel Gomez, a political newcomer and former Navy Seal, in a low turn-out vote.
Though the state historically leans Democratic, the party feared a repeat of Republican Scott Brown's surprise victory in a 2010 special election.
Mr Kerry, also a Democrat, had held the seat for 29 years before February.
Mr Markey's victory means the Democrats retain their 55-45 Senate majority, which includes two independent senators who tend to vote with the party.
With nearly 90% of the vote reporting, Mr Markey was ahead 54%-45%.
Mr Markey, 66, said on Tuesday before polls closed he was confident he had campaigned as best he could.
"I have delivered a message on gun safety, on a woman's right to choose, on creating more jobs, and I think that message has been delivered and I feel very good about today," he said.
'No fair fight'
Fearing a surprise upset victory by Mr Gomez, prominent Democrats poured money and support into Mr Markey's campaign, with President Barack Obama and Vice-President Joe Biden campaigning for him.
Mr Gomez, 47, had argued Mr Markey had failed make an impact in Congress even after 37 years.
In his concession speech, the Republican acknowledged the odds were against him in Massachusetts, one of the most solidly Democratic states in the US.
"In the military you learn one thing," he said, "that not every fight's a fair fight.
"We were massively overspent. We went up against literally the whole national Democratic Party."
Mr Markey will join Massachusetts Senator Elizabeth Warren, also a Democrat. She beat Mr Brown in the 2012 election.