Marine Sgt Lawrence Hutchins conviction dropped in Iraq murder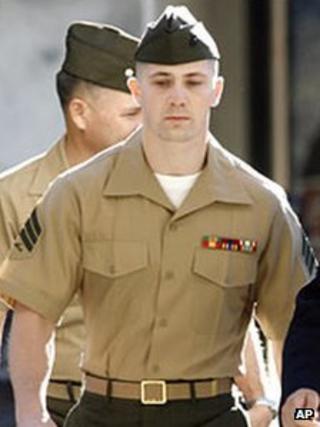 A US military court has overturned the conviction of a Marine found guilty in the 2006 murder of an Iraqi civilian.
The military appeals court ruled Sgt Lawrence Hutchins was improperly held in solitary confinement for seven days without access to a lawyer.
Sgt Hutchins, the leader of a unit found to have killed a 52-year-old retired policeman, has served about half of an 11-year sentence.
His lawyer Maj Babu Kaza said he believed Sgt Hutchins would be freed.
"Sgt Hutchins and his family have suffered enough with this case, and it's time for this to be over," Maj Kaza said. "Enough is enough."
Shot in ditch
The case centres on the shooting death of retired Iraqi policeman Hashim Ibrahim Awad during a raid in Hamdaniya, near Baghdad, in April 2006.
Prosecutors said the unit led by Sgt Hutchins abducted Awad from his house when they could not find a suspected insurgent who lived next door.
Awad was taken to ditch and shot in the head at least 10 times. According to prosecutors Sgt Hutchins's unit later placed a rifle and shovel by his body to make it appear as though he had been planting a roadside bomb.
Weeks after the murder, Sgt Hutchins was being questioned by military investigators in Iraq when he invoked his right to a lawyer.
At that point he was put under guard in a caravan where he was prevented from calling a lawyer or anyone else. After seven days there, investigators asked to search his belongings and promised he would be able to tell his side of the story the following morning.
Prosecutors' options
According to the ruling, Sgt Hutchins was interrogated the next day and provided a written confession.
The Court of Appeals for the Armed Forces found on Wednesday that the investigators had improperly resumed questioning Sgt Hutchins without a lawyer, violating his rights.
The written confession should not have been allowed into evidence, the appeals court found in a 4-1 ruling.
Navy prosecutors can now appeal the decision to the US Supreme Court, let the ruling stand, or send the case back for a retrial.
The seven men other implicated in the incident have spent less than 18 months in prison. Some received lesser sentences in exchange for testimony.