Anthony Bennett is first Canadian top NBA draft pick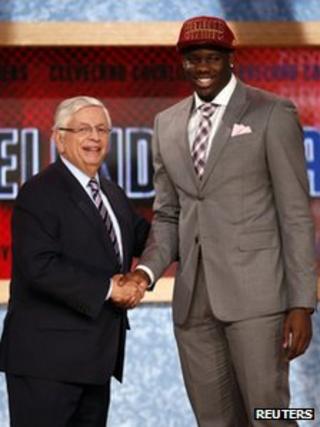 Ontarian Anthony Bennett has become the first-ever Canadian to be picked first in the US professional basketball league's annual player selection.
Bennett of Brampton, Ontario, 20, was chosen by the Cleveland Cavaliers in the National Basketball Association's (NBA) annual draft.
He played at the University of Nevada, Las Vegas for one year before entering the NBA draft.
The power forward was a surprise pick by the Cavaliers.
Bennett, who attended high school in West Virginia and Nevada in the US, has also played for Canada's junior national team.
He was chosen first despite currently being unable to practise as he recovers from shoulder surgery.
"I'm just as surprised as everybody else," Bennett said in New York City after being picked.
"I didn't really have any idea who was going number one or who was going number two. I heard everything was up for grabs. But I'm just real happy, glad that I have this opportunity."
Prime Minister Stephen Harper was among those congratulating Bennett on Thursday evening.
"Congrats to @AnthonyBennett for being the first Cdn ever drafted #1 overall in the NBA draft," Mr Harper tweeted. "Good luck in Cleveland, we're all behind you."