Calgary reopens city centre after flood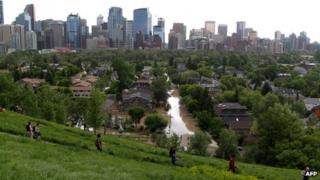 Residents and workers have begun returning to Calgary's city centre, 12 days after a flood devastated the province of Alberta, killing three.
"It's not going to be entirely business as usual," Mayor Naheed Nenshi said, "but... downtown is open for business."
The move comes three days before the opening of the Calgary Stampede, a major rodeo and cultural festival.
Some festival events have been cancelled or relocated after the city's Saddledome suffered major flood damage.
Many underground parking lots in Calgary remain closed, some transit is being detoured, and electricity remains out in some residential areas.
The city was inundated in late June after torrential rains caused the Bow and Elbow rivers, which flow through the city, to overcome their banks.
Calgary officials estimate it will cost at least 265.5m Canadian dollars ($252m, £166m) to repair flood damage to the city, including C$50m for the Calgary Zoo, C$31m for a police building and at least C$12m for the transit system.
More than 100,000 people were forced to evacuate their homes in Calgary and the surrounding areas.
Further south, the first residents of High River returned to their homes on Monday to find some houses destroyed and others with extensive damage, including mould.