Ariel Castro ruled competent for 'kidnap den' trial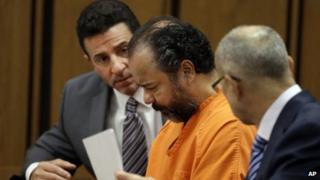 An Ohio man accused of raping and holding three women captive in his home for about a decade has been found competent to stand trial.
A judge ruled Ariel Castro understood the charges against him and could assist his lawyers.
Mr Castro was arrested in May after one of the women allegedly held in his Cleveland house escaped.
He has pleaded not guilty to 329 charges, including multiple counts of rape, kidnapping and aggravated murder.
The murder charges relate to Mr Castro's alleged starving and beating of a pregnant captive until she miscarried.
The accused, a 52-year-old former school bus driver, is in custody in lieu of $8m (£5m) bail.
He could face the death penalty or the rest of his life in prison if convicted.
Mr Castro's lawyers have previously hinted they would offer a guilty plea if the prosecutor agreed not to seek the death penalty.
'Inappropriate'
During the hearing on Wednesday, Mr Castro asked for permission to visit the six-year-old girl he fathered with one of the women.
"I just think that would be inappropriate," Judge Michael Russo said, denying the request.
Michelle Knight, 32, Amanda Berry, 27, and Gina DeJesus, 23, went missing in Cleveland between 2002-04.
They were rescued from the house where they were allegedly kept by Mr Castro after Ms Berry kicked open a door and called police with the help of a neighbour.
When officials arrived they rescued Ms Knight and Ms DeJesus, as well as Ms Berry's six-year-old daughter, fathered by Mr Castro.
The three women were abducted after accepting car rides from Mr Castro, police said. Neighbours said they did not think anyone had been living in the house where they were imprisoned.
Ms Knight said five pregnancies ended after her captor starved her for at least two weeks and "repeatedly punched her in the stomach until she miscarried", according to the authorities.
She also said she was forced to help deliver Ms Berry's daughter and was threatened with death if the infant did not survive. The baby stopped breathing and Ms Knight used mouth-to-mouth resuscitation to save it, authorities said.