White House dismisses 2012 election recount petition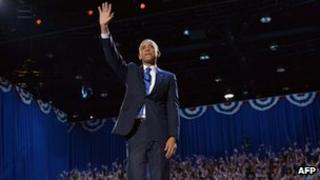 The White House has answered a petition asking for an election vote recount by saying there is no evidence of fraud.
The petition, which attracted more than 73,000 signatures, cited an Ohio county as an example of "blatant" cheating.
But the White House said data from the Ohio state department showed President Barack Obama won by 50.98% there, not 108% as alleged on the petition.
Mr Obama won the presidential election by 50.6%, while his Republican opponent Mitt Romney took 47.8% of the vote.
"We understand that you might have been disappointed by the outcome of the 2012 election," the response from the White House says.
"This election was decided fairly and democratically, and there's absolutely no evidence to suggest otherwise," it adds.
The White House disagreed with the petition's assertion that there had been more votes cast in Wood County, Ohio, than the number of registered voters.
Citing figures from the Ohio secretary of state, the White House said that in 2012 there were 108,014 voters registered in Wood County, and 64,342 ballots cast.
The petition had argued there were only 98,213 registered voters but that 106,258 people had voted.
The White House said the average statewide turnout in Ohio was 71% in the 2012 election.