John Kerry wife's health improves in Boston hospital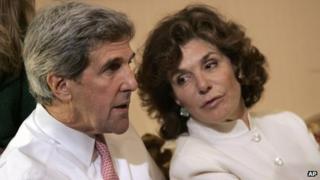 The wife of US Secretary of State John Kerry is in fair condition after being taken to hospital in Boston.
Teresa Heinz Kerry, 74, was initially transported on Sunday in critical but stable condition, but a Kerry spokesman says her health has improved.
She fell ill on Sunday during a family holiday in Nantucket, Massachusetts.
Her condition was stabilised at the local hospital before she was transferred to a hospital in Boston, with Mr Kerry travelling alongside her.
"The family is grateful for the outpouring of support it has received and aware of the interest in her condition, but they ask for privacy at this time," Mr Kerry's spokesman Glen Johnson said earlier.
Emergency services were called after relatives noticed Ms Heinz Kerry showing symptoms consistent with some kind of seizure, a family friend, who did not wish to be named, told the Associated Press news agency.
Born to a Portuguese family in Mozambique, Teresa Heinz Kerry is a former UN interpreter and widow of Senator John Heinz, heir to the ketchup company fortune, who died in 1991.
She married Mr Kerry in 1995. It was a second marriage for both of them. She was also a fixture in her husband's failed campaign for president in 2004.
Ms Heinz Kerry revealed in 2009 that she had been treated for breast cancer.
The US secretary of state had been at his Nantucket home for the US Independence Day holiday after returning from a nearly two-week diplomatic trip to the Middle East and South East Asia.
Before his wife was rushed to hospital, Mr Kerry had planned to return to Washington to co-host high-level strategic and economic talks with senior Chinese officials alongside Treasury Secretary Jack Lew later in the week.
State department officials said Mr Kerry's schedule may now change.