Bonanno family members charged in New York mob crackdown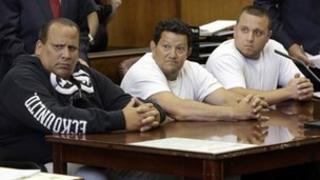 Nine members of one of New York's five Italian organised crime families, the Bonannos, have been arrested and accused of "old-school mob activity".
Manhattan prosecutors announced the indictment on charges of enterprise corruption on Tuesday.
They say a $10 million scheme to run an organized criminal enterprise had infiltrated a Long Island labour union.
"Organized crime is by no means extinct," said Manhattan District Attorney Cyrus Vance.
"The 158-page indictment demonstrates that organized crime is still operating in New York City and has its hooks into the labour movement,'' he added.
A two-year investigation led to the dismantling of a Bonannos family gang, which included suspected leader Nicholas "Nicky Mouth" Santora, 71, who is already serving a two-year jail term in a separate mob case.
One of the Bonanno associates arrested was the head of Teamsters 917 on Long Island - a union representing about 1,900 workers in liquor, automotive, parking and other industries.
The indictment accuses Nicholas Bernhard of abusing his position of power by soliciting union members as clients of criminal activities.
"This crew's use of a union president in its corrupt activities is detrimental to honest union workers everywhere," it reads.
In addition to extortion, loan sharking and gambling, the gang is accused of trading prescription drugs including Viagra.
Seven of the accused have pleaded not guilty to the charges.
Former Bonanno boss Joseph Massino became the highest-ranked member of New York's Italian organized crime network to take to the witness stand after his conviction for murder and racketeering in 2004.
He later testified at the trial of Vincent "Vinny Gorgeous" Basciano, who was accused of arranging the killing of an associate and sentenced to life imprisonment.