Canada Lac-Megantic train blast media review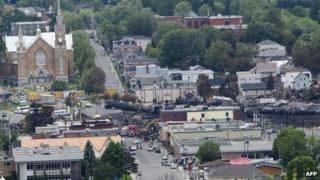 Six days after a runaway train packed with crude oil incinerated the heart of Lac-Megantic, residents of the picturesque town are coming to terms with the likely fact that 50 people died in the intense fireball.
Questions abound in regional and national media about how the derailing happened, and who is to blame.
While it is still not clear what caused the oil-tanker train to barrel down the tracks unattended, most of Canada's six runaway train incidents since 2006 involved inadequate braking systems or procedures, national broadcaster CBC News reports.
The disaster proves engineers should not work alone, argues Heather Mallick in the centre-left Toronto Star.
Pointing out that Ottawa is cutting funding for Transport Canada by nearly a third, she says the trend to pare staffing to the minimum to save money on salaries carries a human cost.
But in the rightist National Post, Andrew Coyne analyses the political side of the tragedy and warns of people trying to use the Lac-Megantic disaster to further their own agendas - particularly those blaming Conservative spending cuts.
"Perhaps it is reasonable to require that trains not be left unattended, or not parked on an incline, or that signals or fail-safes be installed to catch any trains that do slip their moorings," he writes.
"But whatever regulatory regime we come up with, it won't alter three fundamental facts: there are events you can't plan for; there are costs that aren't worth bearing; and the best regulations in the world only work if people follow them."
'High-calibre engineer'
The centrist Toronto Globe and Mail profiles Edward Burkhardt, the chairman of Montreal, Maine and Atlantic Railway (MM&A)- the railway company at the centre of the Lac-Megantic controversy.
He is a New York-born jazz lover who now lives in Kenilworth, Illinois.
The veteran railroader's office doubles as the New Zealand honorary consul office - a post Mr Burkhardt has held since the mid-1990s after playing a major role in privatising that country's rail system.
Across the border in Maine, the Bangor Daily News profiles 10 years of highs and lows for MM&A.
Meanwhile, Montreal's La Presse says the driver of the train is "beside himself" after the disaster.
Tom Harding, who has worked for MMA for several decades, is described by colleagues and friends as a "high-calibre engineer" and an "extremely competent man", says the newspaper.