Khalid Sheikh Mohammed 'asked to design' vacuum cleaner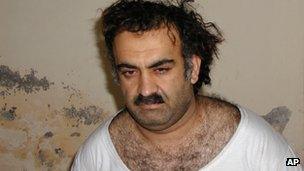 The alleged mastermind of the 9/11 attacks, Khalid Sheikh Mohammed, reportedly asked his CIA captors if he could design a vacuum cleaner.
The Pakistan-born mechanical engineering graduate made the request during a period of detention in Romania in 2003, the Associated Press reports.
A former CIA official told the news agency that he used online guides to re-design the household appliance.
The CIA wanted to make sure its prisoners stayed sane, AP reported.
"We didn't want them to go nuts,'' the former senior CIA official told the news agency.
Khalid Sheikh Mohammed was arrested in 2003 and underwent harsh interrogations in Poland. He was forced to go without sleep, and underwent waterboarding, or simulated drowning.
The CIA prison in Poland was closed in September 2003, and Khalid Sheikh Mohammed was transferred to a prison in the Romanian capital, Bucharest.
This detention centre reportedly provided books for prisoners to read. Khalid Sheikh Mohammed is said to have enjoyed the Harry Potter series of books.
Khalid Sheikh Mohammed holds a bachelor's degree in mechanical engineering from North Carolina A&T State University.
His military lawyer at Guantanamo Bay, Jason Wright, told the Associated Press he was forbidden to discuss whether the vacuum cleaner designs existed.
"It sounds ridiculous," he said. "But answering this question, or confirming or denying the very existence of a vacuum cleaner design... would apparently expose the US government and its citizens to exceptionally grave danger."
Related Internet Links
The BBC is not responsible for the content of external sites.