Warren Hill execution stayed due to lethal drug law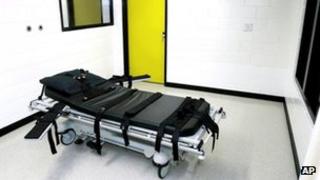 A death row inmate said to be mentally disabled has won a temporary reprieve in the state of Georgia over a lethal injection state law, a judge said.
Warren Hill's stay of execution was granted hours before he was due to die.
Hill's lawyers challenged a law banning information about the lethal drug's manufacturer from becoming public.
He was convicted of killing fellow inmate Joseph Handspike in 1990 while serving life for shooting dead his girlfriend Myra Wright, 18, in 1986.
Hill's lawyers are challenging the constitutionality of a new state law that keeps secret the identities of the lethal injection drug's manufacturer and of the physician who prescribes it.
Georgia has been forced to turn to an individual pharmacy for its lethal injection drug because European firms are refusing to supply their drugs to the US for use in capital punishment.
The state law was passed in Georgia in March, after the state's supply of sedatives expired.
This is the second time Hill's execution has been called off. He was given a temporary reprieve last year after his legal team argued he was mentally disabled.
Hill's lawyers filed documents saying the three doctors who evaluated the inmate 13 years ago - deeming him mentally fit at the time - have changed their opinions.
One doctor said his evaluation was very rushed, another said his earlier view was unreliable because of his lack of experience and a third doctor cited advances in the way mental handicaps are understood.
Hill's lawyers have appealed to the US Supreme Court on that issue.
His execution would be the 19th in the US this year.