US Senate averts 'nuclear option' for blocked nominees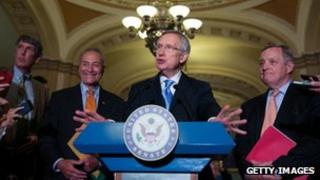 US Senate Democrats have agreed not to force a historic change in the chamber's rules if Republicans stop blocking some of President Barack Obama's nominees to federal agencies.
Democrats had threatened to ban a tactic known as a filibuster, which has been used by both parties over the years to block White House nominees.
The Senate then approved the first of the stalled nominees in a 66-34 vote.
It was feared such a rule change would make US politics even more acrimonious.
It could also have been used against Democrats if Republicans were to regain a Senate majority in the next election.
The chamber confirmed Richard Cordray as the head of the Consumer Financial Protection Bureau, a relatively new agency, on Tuesday.
Mr Obama named Mr Cordray for the post in January 2012, but Republicans have been blocking his nomination in order to wring concessions on how the agency is run.
'Not a bad deal'
Under current rules, Senate confirmations and other legislation can be blocked by a procedural hurdle known as a filibuster, which can only be stopped with 60 out of 100 votes.
In practice, the 46-strong Republican minority voting together can block nearly any measure.
Democrat Senator Harry Reid, the majority leader, said senators in his party would seek to ban filibusters through a simple majority of 51 votes, instead of the 67 currently needed to change the chamber's rules.
This was known as the "nuclear option", creating a precedent for any future Senate majority to curtail the rights of the minority group of senators.
But after a three-hour, closed-door session with all but two of the 100 senators, lawmakers from both parties signalled a deal was at hand.
As he left Tuesday's meeting, Republican Senator John McCain told reporters it was "probably the hardest thing I've been involved in", but said the proposal was "an important step forward".
Max Baucus, a Democrat, told the Washington Post the gathering had been helpful for overall relations in the Senate.
The Montana senator said: "There should be many more meetings like that, frankly. We don't talk to each other enough."
Under the deal, President Obama will also be able to name two new nominees for the National Labor Relations Board (NLRB).
"It is a compromise, and I think we get what we want, they get what they want. Not a bad deal," Sen Reid said on the Senate floor.
Other stalled confirmations now expected to gain a full Senate confirmation vote include Tom Perez, to head the Department of Labor, and Gina McCarthy to run the Environmental Protection Agency.