Lac-Megantic crash: Engineer 'devastated' over blast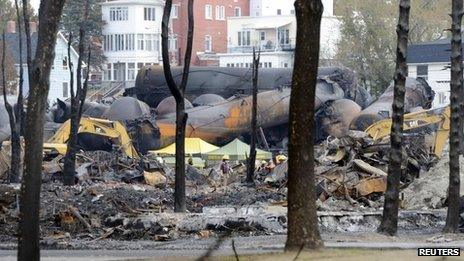 The train engineer at the centre of a derailment and explosion last week in a Canadian town that killed dozens is "devastated", his lawyer has said.
Tom Harding, who parked the train hours before it rolled downhill into Lac-Megantic, Quebec, is staying at an undisclosed location, his lawyer said.
The chief executive of the rail company has accused Mr Harding of failing to secure hand brakes on the train.
Officials have recovered 38 bodies from the blast, with 12 more presumed dead.
The explosion of the derailed train destroyed a large area of the town and forced some 2,000 residents to flee their homes.
The crash, the worst railway accident in Canada in nearly 150 years, has raised questions about the growing use of rail to transport oil in North America.
The train that derailed had 72 tanks filled with oil. At least five of those exploded on 6 July, razing dozens of buildings in the town.
Mr Harding parked the train and retired for the night, before it rolled away downhill towards Lac-Megantic.
A hotel inn employee has said the engineer had a look of terror on his face as he ran from his room after hearing the blast.
In the first public comments from Mr Harding's representative, lawyer Thomas Walsh said he hoped to get psychological help for the engineer.
He also said Mr Harding had been co-operating with investigators.
"He was interviewed for a long period of time by the Surete du Quebec [Quebec police] and by the safety investigators from Transport Canada last week," he said.
But the lawyer said he would not comment on his client's alleged culpability.
"I think we're better to let the dust settle and find out the specifics from the investigators - maybe if there are some specifics, he might want to respond to them," he said.
Related Internet Links
The BBC is not responsible for the content of external sites.