Liz Cheney to run for Wyoming Senate seat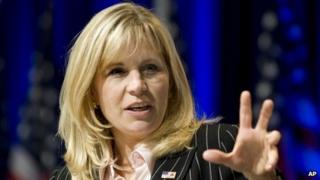 The oldest daughter of former Republican Vice-President Dick Cheney has announced that she will run for a Senate seat in the US state of Wyoming.
But Republicans have already said they back sitting Senator Mike Enzi over Liz Cheney, 46, in next year's primaries.
The married mother-of-five moved to Jackson Hole last year and is often seen at local political events.
Correspondents say a challenge from a fellow Republican is rare in Wyoming.
All of Wyoming's three representatives in Congress are Republicans.
Ms Cheney said: "I am running because I know, as a mother and a patriot, we can no longer afford simply to go along to get along.
"We can't continue business as usual in Washington."
Analysts say a tough campaign could lie ahead. The incumbent, a former shoe salesman and mayor of the coal-mining town Gillette, is well-liked in his constituency.
Mr Enzi was re-elected in 2008 to his third term in the Senate with 75% of the vote.
In recent years, Ms Cheney has appeared as a political commentator on the US network Fox News. She is also reportedly working on a book with her father.
She has a law degree from the University of Chicago and previously worked as a lawyer for the US state department and the Agency for International Development.