US lawmakers grill Obama officials on NSA surveillance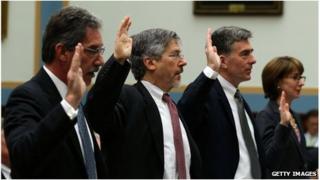 Obama administration officials have faced sharp questions from Capitol Hill lawmakers about the US government's surveillance programmes.
The House judiciary committee questioned why it was necessary to build a database of phone records.
Deputy Attorney General James Cole told the hearing that the programme protected citizens' privacy and safety.
Revelations about US spying on internet and phone data were disclosed last month by an intelligence contractor.
Edward Snowden - who had worked for the National Security Agency (NSA), the US electronic spying organisation - has spent the last three weeks in a transit area of a Moscow airport, seeking asylum.
Separately, Senator Lindsey Graham called for American athletes to boycott the 2014 Winter Olympics in the Russian town of Sochi if Mr Snowden were to be granted asylum there. But the US Olympic Committee swiftly rejected the idea.
'Infuriating'
Wednesday's hearing in Washington DC was one of the most searching on US government surveillance since the 9/11 attacks, correspondents say.
Questioning became heated as congressmen said the scope of the snooping made it vulnerable to government abuse.
Randy Forbes, a Virginia Republican, said: "That's exactly what the American people are worried about.
"That's what's infuriating the American people. They're understanding that if you collect that amount of data, people can get access to it in ways that can harm them."
But Robert Litt, the general counsel for the Office of the Director of National Intelligence, said Congress already knew about the government's security policy.
"When it comes to telephone calls, every member of Congress has been briefed on this programme," Mr Litt told the panel.
The deputy attorney general argued that the government had to build its own database of phone records because the telecommunications firms did not keep them for long enough.
But Wisconsin Republican James Sensenbrenner - one of the original sponsors of the Patriot Act, under which the NSA programme was authorised - threatened that the law might not be approved again in 2015.
"Unless you realise you've got a problem," Mr Sensenbrenner said, "that is not going to be renewed."
Representative Ted Poe, a Texas Republican, said that without the leaks by Mr Snowden many lawmakers would not have known how far the NSA programme reached.
"Snowden, I don't like him at all, but we would never have known what happened if he hadn't told us," Mr Poe said.
The Patriot Act was passed by Congress in the wake of the 9/11 attacks, granting sweeping security powers to the government. It was renewed in 2005 and 2010.
The House judiciary committee is responsible for oversight of the surveillance laws underlying the NSA programme.