Luka Magnotta case: 'Gore' website owner charged in Canada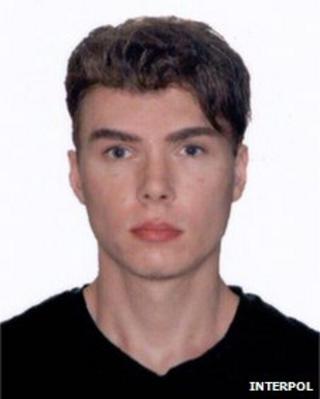 Canadian police have charged the owner of a website that hosted a video said to show the murder and mutilation of a Chinese national in Montreal last year.
Mark Marek was charged with corrupting morals for allegedly uploading the video, knowing it showed a real murder.
The 38-year-old was due to attend a bail hearing in Edmonton on Thursday.
Porn actor Luka Magnotta pleaded not guilty in June last year to murdering 33-year-old student Jun Lin and defiling his corpse.
Mr Marek, who owns the website Best Gore, was arrested on Tuesday night after an investigation that lasted more than a year.
"It is alleged that Marek posted the video online in Edmonton, knowing the video that was sent to him by Luka Magnotta was depicting a real murder," Staff Sgt Bill Clark said in a statement on Wednesday.
Mr Marek said the video had been sent to him on 25 May 2012 and published on the site later that day, according to CBC News.
On Tuesday he left a message on his website saying he had been in contact with the police.
"It didn't sound like the detective was looking to have me sent to jail yet, but I can't be sure of anything," Mr Marek wrote.
It is thought that Mr Magnotta had been in a relationship with Lin, who was studying at Concordia University in Montreal.
Severed limbs, confirmed to be the Chinese student's, were sent to political parties in Ottawa - including Canadian Prime Minister Stephen Harper's Conservative Party - and to two schools in Vancouver.
Lin's head was later found in a Montreal park.
Mr Magnotta's trial is scheduled to begin in September 2014.