Whitey Bulger henchman details grisly killings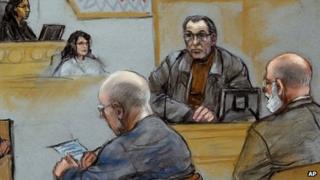 A once loyal henchman of alleged mob boss James "Whitey" Bulger has detailed for a Boston court a string of grisly killings he says were carried out by the accused.
Stephen "The Rifleman" Flemmi said his girlfriend had been strangled by Bulger in front of him.
He also said that he and Bulger sprayed a phone booth with gunfire to kill a bar owner they wanted to silence.
Bulger, 83, denies 19 counts of murder and other charges.
The case has revived memories of a time when mobsters in Boston's Irish community gunned down victims and disposed of the bodies with impunity.
In all, Flemmi detailed nine killings that he said Bulger was involved in during the 1970s and 80s when the two men were leaders of the Winter Hill Gang, Boston's Irish mob.
During his second day on the stand, Flemmi said Bulger had persuaded him that Debra Davis - Flemmi's girlfriend - had to die because she had learned about Bulger's dealings with a corrupt FBI agent.
Flemmi said Bulger told him to bring the woman to a house in South Boston.
As soon as they walked in, Bulger grabbed her by the neck and strangled her as he carried her downstairs, Flemmi said.
Two other gang members put the body in the boot of a car and buried it along the banks of the Neponset River in Quincy, Flemmi added.
He also described how he and Bulger gunned down bar owner Edward Connors in a phone booth in 1975 because they believed he was telling people about the gang's activities.
Flemmi said Bulger emptied a double-barrelled shotgun and a handgun during that attack, while Flemmi fired seven or eight shots.
"We just stepped out from the side of the building - the garage - and shot him,'' Flemmi said. "We just fired on him."
He also told the court about how they buried bodies at a gun club on the outskirts of Boston.
The witness said he had worked closely with Bulger for about two decades, until the accused fled Boston.
Flemmi, who remained in Boston, was arrested. He pleaded guilty to 10 killings and is serving a life sentence in prison.
The court has heard that Bulger - who also faces a life term if convicted - was a violent and cold-blooded criminal.
He denies all the charges, though his lawyer has conceded his client was a drug dealer, extortionist and loan shark.
Prosecutors say Bulger regularly met with a corrupt FBI official who turned a blind eye to the Winter Hill gang's activities in return for information on the Italian Mafia.
However, Bulger denies being an informant or "rat", insisting through his lawyer that he paid for information but offered none of his own.
On Wednesday, a former drug dealer testified that Bulger had forced him to play Russian roulette in 1983 as a way to make him hand over $1m (£660,000).
Bulger, who spent 16 years on the run before his 2011 capture in Santa Monica, California, was one of the FBI's most wanted fugitives.
He was an inspiration for the gangster played by Jack Nicholson in Oscar-winning 2006 film The Departed.