More US children injured by falling televisions - study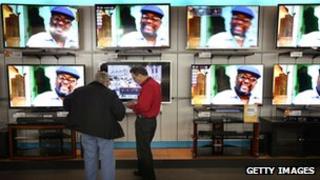 Falling television sets have injured nearly 200,000 children in the US over 20 years, a study has found.
Most injuries were not serious, and only 2.6% required hospital admission, the study in the journal Pediatrics says.
But the injury rate has climbed substantially for these accidents, it says.
Researchers say changes in the location of TV sets in the home may be responsible for the figure.
Most injuries occur in children under five, with head and neck wounds the most common.
The researchers looked at national figures for non-fatal television-related injuries to children in the period from 1990 to 2011.
In 2011, 12,300 children nationwide received emergency treatment for TV-related injuries, compared with 5,455 in 1990, the study said.
According to the study, 99% of US households own at least one television, and 55% have three or more.
Researchers say the number of TV sets may not be the only reason for the increasing number of injuries.
"We speculate that changes in the location of TV placement in the home may be responsible," said the study.
"Older TVs may be relegated to less safe locations in the home, such as on dressers or other unsuitable furniture."
The increasing popularity of flat-screen TVs may be another key factor.
"Lighter weights coupled with a less bulky design may make flat panels more easily tipped than CRTs (cathode ray tube) and may be contributing to the observed increase in the rate of injuries associated with falling TVs," the study said.