University of Florida footballer held over 'dog bark'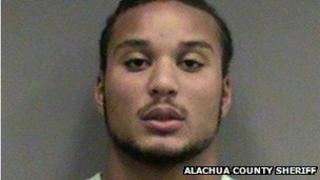 A Florida university footballer has been arrested for barking at a police dog and resisting arrest, police say.
An officer and a dog were investigating a vehicle in Gainesville early on Sunday when Antonio Morrison, 19, barked at the animal, police said.
Florida law makes it a crime to "harass" a police dog while the animal is "in the performance of its duties".
Mr Morrison, who plays linebacker for the University of Florida "Gators" team, said the dog had barked first.
University of Florida football coach Will Muschamp said Mr Morrison would be suspended for at least two games when the season starts later this summer.
"I'm extremely disappointed in Antonio Morrison's decision making," Mr Muschamp said in a statement.
Arrest questioned
Mr Morrison enrolled at the University of Florida in January 2012, playing his first season the following autumn. He was scheduled to be on the team's starting line-up this season.
Sunday's arrest was Mr Morrison's second in five weeks. He was charged with battery in June after being accused of punching a bouncer who refused to give him a discount.
According to a report, police responded about 03:00 local time (07:00 GMT) on Sunday to a vehicle near a bar to which officers had repeatedly been called over the past year.
As an officer was investigating, Mr Morrison walked by in a group. The linebacker then walked up to a police car where a police dog, Bear, was inside and began barking, police said.
The dog barked back, becoming distracted from its duties, police said. As the officer attempted to handcuff Mr Morrison, he resisted several times, according to the police report, until two other officers arrived to assist.
A Florida prosecutor said he was unsure whether Mr Morrison should have been arrested.
"Based on the initial report, I have to question the sufficiency of the evidence to constitute a crime," Florida State Attorney Bill Cervone told the Gainesville Sun.
"Simply barking at a dog may not be enough."