Five Canadian women attempt Lake Ontario swim relay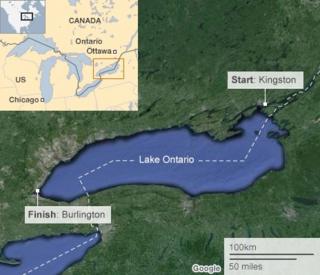 Five Canadian women aged 18-61 have begun a relay swim of the length of Lake Ontario, a feat never before accomplished.
They started the 305km (189 mile) swim at Kingston and aim to finish in Burlington, both in the Canadian province of Ontario.
The marathon journey, through chilly water, is expected to last five days.
Each woman has completed solo swims across Lake Ontario, and the youngest swam the English Channel last year.
They also all completed the 52km swim from Niagara-on-the-lake to Toronto.
Colleen Shields, 61, Nicole Mallette, 48, Samantha Whiteside, 23, Rebekah Boscariol, 18, and Mona Sharari, 18, jumped into the water at about 10:00 EST (15:00 GMT) in a park in Kingston and swam together until they reached Lake Ontario's open water an hour later.
From there they will swim on rotation in two-hour shifts.
"Once the 2 hour period is coming due, the next swimmer will tag the current swimmers' feet and take over the next leg of the swim," their website says.
The swimmers will be tailed by support boats ensuring their safety.
Mallette said the team had been training in the lake since June to acclimatise to the cold water.
"We started off training in 54F (12C) water," she told CBC News. "Take your shower that you normally have, put it on cold and multiply that by 10."
According to the National Weather Service in Buffalo, New York, the current water temperature in Lake Ontario is 9C.
The women are raising money for the charity Because I'm A Girl, which aims to promote gender equality.