Ryan Braun suspended amid doping allegations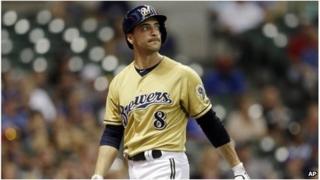 A US baseball star has been suspended for the rest of the 2013 season after violating the sport's doping policy.
The Milwaukee Brewers' Ryan Braun, 29, the National League's 2011 Most Valuable Player, will miss 65 games.
Analysts say other suspensions could follow, as an investigation continues into a Florida clinic suspected of providing doping drugs to players.
Major League Baseball has sought to crack down on doping since a 2007 report exposed its pervasiveness.
Braun, an outfielder, will forfeit about half of his $8.5m (£5.5m) salary as a result of the suspension.
'Distraction'
"As I have acknowledged in the past, I am not perfect," Braun said in a statement.
"I realize now that I have made some mistakes. I am willing to accept the consequences of those actions.
"This situation has taken a toll on me and my entire family, and it has been a distraction to my teammates and the Brewers' organization."
Major League Baseball (MLB), the professional sport's governing organisation - did not specify which violations Braun was suspected of committing.
The president of the MLB Player's Association, Michael Weiner said: "I am deeply gratified to see Ryan taking this bold step."
He said the move "vindicates" the rights of all professional baseball players.
Braun said he would not contest the decision.
In 2011, Braun failed a drug test, showing unusually high levels of testosterone after a game in the end-of-season playoffs.
He appealed and declared he was innocent, and was never penalised.
The accusations against Braun emerged from a major investigation into a Florida drug clinic that is suspected of distributing performance-enhancing drugs to several professional baseball players.
After years of inflated batting statistics - and arm muscles - during what has become known as baseball's "steroids era", the extent of doping in the sport was laid bare in a 2007 report by former Senator George Mitchell.
Baseball's Commissioner Allan "Bud" Selig subsequently strengthened the sport's drug testing policies and created an investigative branch to prosecute drug offences.
Many hoped the changes would usher in a new, "clean" era for the sport.