Canada tightens rail laws after Lac-Megantic crash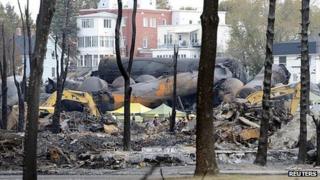 The Canadian government has issued an emergency directive toughening rail regulations after a deadly accident in Quebec earlier this month.
Transport Canada said that any train carrying dangerous goods must have at least two operators and must not be left unattended on a main track.
A runaway train carrying oil derailed in the town of Lac-Megantic on 6 July and exploded, killing some 47 people.
An engineer had parked the train for the night uphill from the small town.
The driverless train, consisting of five locomotives and 72 tanker cars full of crude oil, accelerated into the centre of the lakeside town where it derailed.
"The disaster brought to light several industry practices which have caused some concern," said Gerard McDonald, assistant deputy minister of safety and security at Transport Canada.
"Given that - and with an abundance of precaution - we thought it would be prudent to implement these measures now."
The directive, which takes effect immediately, also says operators must ensure unattended locomotives cannot be moved and that handbrakes are set on any train left unattended for more than an hour.
Mr McDonald said the government may impose further regulations on the railway industry.
The latest directive is in line with recommendations made last week by the Canadian Transportation Safety Board, which has been investigating the cause of the crash.
Investigators have said the train's handbrakes are one focus of their inquiries.