Sweden's Carl Bildt 'best connected' Twitter leader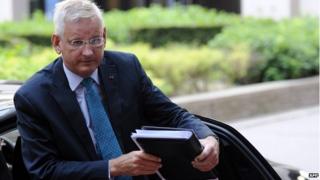 Sweden's Foreign Minister, Carl Bildt, is the best connected world leader, an annual study of Twitter users suggests.
The minister's account @CarlBildt shows he mutually follows 44 other leaders and also ranks highly in terms of engaging with other Twitter users.
The most "conversational" leader, however, was Prime Minister of Uganda Amama Mbabazi: 96% of his tweets were replies to other users.
The study examined 505 heads of state and government and foreign ministers.
Burson-Marsteller, the communications firm which first produced the study last year, analysed government accounts in 153 countries during July 2013.
President @BarackObama remains the most followed world leader on Twitter with more than 33 million followers. The number of world leaders and governments following the American president is 183.
Yet he only mutually follows two other world leaders - Norwegian Prime Minister Jens Stoltenberg and Dmitry Medvedev, Russia's Prime Minister.
If influence is to be measured by how many of a leader's tweets are retweeted by their Twitter followers, then Pope Francis (@Pontifex) ranks highest. His tweets in Spanish are retweeted on average more than 11,000 times.
Tweets by @BarackObama are only retweeted on average 2,309 times. The American president has a higher number of followers, but the number of retweets of the Pope's messages is said to make him more influential.
The pontiff follows no-one except himself. The account @Pontifex follows only the other language versions of his feed.
The researchers argue that Twitter has become a "formidable broadcasting tool" for world leaders. However it is not clear what role interactivity might play.
Brazilian President Dilma Rousseff (@DilmaBR) and French President Francois Hollande (@FHollande) both stopped tweeting after they were elected. But both have seen their followers increase.
The report's author, Matthias Lufkens of Burson-Marsteller, said that people wanted to engage with their leaders on Twitter. "However," he said, "it is astonishing to see that accounts with the largest number of followers have the least interaction with other Twitter users."