Caroline Kennedy nominated for ambassador to Japan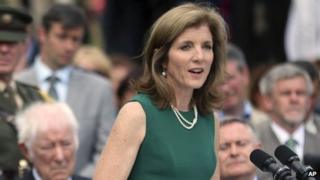 President Barack Obama has nominated Caroline Kennedy, the daughter of former President John F Kennedy, to be America's ambassador to Japan.
Ms Kennedy, a lawyer by training, was a key Obama supporter in 2008 and 2012, but has largely shunned political life.
If confirmed by the Senate, she would be the first woman to serve as envoy to Japan, a crucial US ally in Asia.
She is the only surviving child of the assassinated president and former First Lady Jacqueline Bouvier Kennedy.
The White House announced the nomination with little fanfare, listing Ms Kennedy in a roll call of selections for various administration posts.
'No one better'
Mr Obama said in a statement that the choices brought "a depth of experience and tremendous dedication to their new roles", but he offered no comment specific to Ms Kennedy.
Meanwhile, the chairman of the Kennedy Library Foundation, where Ms Kennedy serves as president, congratulated her in a statement, saying: "I can think of no one better to represent this country with strength and integrity."
The post would be the highest-profile public role for Ms Kennedy.
The 55-year-old has served at many non-profit organisations and has been active in supporting Democratic politicians.
But she has not joined other members of the Kennedy clan in running for office.
She considered running for a New York senate seat when Hillary Clinton became secretary of state in 2009, but declined, citing personal reasons.
Ms Kennedy supported Mr Obama early on in his 2008 presidential run, the only time she endorsed a presidential candidate other than her uncle, Ted Kennedy, in 1980.
Japan is among America's largest trading partners. Previous US ambassadors to Tokyo have included former Senate majority leader Mike Mansfield, former Vice-President Walter Mondale and former House Speaker Tom Foley.
If confirmed, Ms Kennedy will replace John Roos, a wealthy former Silicon Valley lawyer and top Obama campaign fundraiser.