Canada train blast: Mourners attend Lac Megantic memorial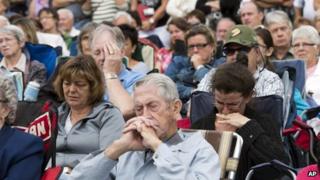 Huge crowds gathered for a memorial service in the Canadian town of Lac Megantic, three weeks after a train disaster killed 47 people.
Around 1,000 mourners, including family of the victims, filled Saint Agnes church on Saturday. Canadian Prime Minister Stephen Harper was among them.
Hundreds more gathered outside to watch the service on a big screen.
A driverless train carrying crude oil derailed and exploded in the centre of Lac Megantic on 6 July.
'Difficult to absorb'
An engineer had parked the train for the night uphill from the Quebec town.
Inquiries are continuing into the cause of blast, which destroyed a large area of Lac Megantic and forced some 2,000 residents to flee their homes.
Investigators have said the train's handbrakes are one focus of their inquiries.
The town centre is being treated as a crime scene.
Saturday's service, which saw the names of all 47 victims read out, was the first public ceremony in the town since the accident, according to local media.
Quebec Premier Pauline Marois and Lac Megantic Mayor Colette Roy-Laroche joined the prime minister and other politicians in the pews.
"This has been an emotional day followed by a very emotional period," Prime Minister Stephen Harper said outside the church.
"It is very difficult to absorb all this when you see all of these families who have been affected."
Rescue workers were also in the congregation.
The Canadian government has issued an emergency directive toughening rail regulations in response to the disaster.
Transport Canada said that any train carrying dangerous goods must have at least two operators and must not be left unattended on a main track.