James 'Whitey' Bulger was not a 'rat', defence says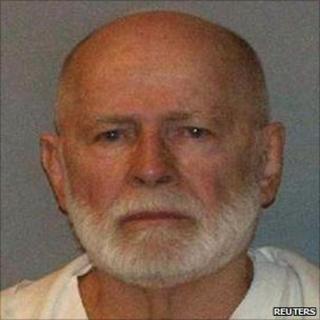 Lawyers for an accused Boston mob boss have opened their defence by calling an ex-FBI agent who said the accused was not an informant for the authorities.
James "Whitey" Bulger, 83, was evasive and did not co-operate when questioned, ex-FBI agent Robert Fitzpatrick said.
Earlier, prosecutors said Bulger was a "hands-on killer" as the head of the Winter Hill gang in the '70s and '80s.
Bulger spent 16 years on the run before his 2011 capture in California. He was one of the FBI's most wanted fugitives.
He denies 19 charges of murder and racketeering. But his lawyers admit Bulger ran illegal gambling and drug rings.
His defence team hopes to show Bulger was not an informant in order to challenge the prosecution witnesses' credibility, analysts say.
'Organised criminal'
"I couldn't see his soul," Robert Fitzpatrick, formerly of the FBI's Boston field office, said in court on Monday.
He said he met Bulger after taking over the Boston office but quickly realised Bulger was not interested in sharing information with the FBI.
"At one point, he even said he was not an informant," the witness said. "At that point, I made a mental reservation: 'What am I doing here? What's going on here?'"
Mr Fitzpatrick added that Bulger described himself as the head of the Winter Hill gang, making the agent even more wary.
"You can't have the head of a gang as an informant, because then you're validating the gang, you're actually part of the management process," Mr Fitzpatrick told the court.
He said he recommended that Bulger be dropped as an informant so the FBI could pursue him.
Fitzpatrick worked for the FBI for more than 20 years, eventually writing a book about the Bulger case.
The defence team has acknowledged their client was an "organised criminal", even though Bulger has pleaded not guilty to all charges. But they have contested allegations he was an informant for the FBI.
It was not clear on Monday whether the accused would testify in his own defence.
Hollywood portrayal
Earlier in the trial, prosecutors portrayed Bulger as a violent criminal who ordered or personally carried out multiple killings.
The court heard grizzly testimony from a former associate who said Bulger strangled his girlfriend in front of him.
Stephen "The Rifleman" Flemmi described how he and Bulger gunned down bar owner Edward Connors in a phone booth in 1975 because they believed he was telling people about the gang's activities.
He also told the court about how they buried bodies at a gun club on the outskirts of Boston.
The witness said he had worked closely with Bulger for about two decades, until the accused fled Boston.
Bulger could face up to life in prison if convicted.
He was an inspiration for the gangster played by Jack Nicholson in Oscar-winning 2006 film The Departed.