Woman named in Washington National Cathedral vandalism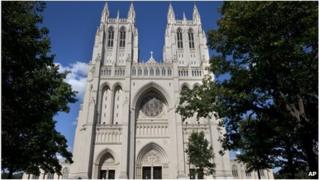 A woman has been arrested in connection with an act of vandalism at the US National Cathedral, days after two other Washington landmarks were similarly defaced.
Jiamei Tian, 58, was arrested at the cathedral after two of its chapels were found splattered with green paint.
In recent days, the Lincoln Memorial and a statue on the National Mall were also vandalised with green paint.
Police are investigating whether the woman had any role in those incidents.
Ms Tian is expected to be charged with destruction of property.
Investigators said they were hoping to question her about the two other incidents but a language barrier delayed the interview, Washington DC's Assistant Police Chief Peter Newsham said.
Police also believed Ms Tian was homeless.
Tourist centre
At the Washington National Cathedral, paint was found splashed over an organ and on the floor of the Bethlehem Chapel in the basement, officials said.
More paint was discovered in the Children's Chapel in the cathedral's nave.
A cathedral spokesman said it was unclear whether the incident had been captured on security footage.
Washington police said the paint would be sent to the FBI for testing.
The US Park Police also revealed on Monday that someone had scrawled indecipherable symbols in green on a statue of Joseph Henry, the first secretary of the Smithsonian Institution, a federally funded research and museum organisation, on the National Mall.
The National Mall is a strip of park land near the White House and the US Capitol building. It is home to several major tourist attractions, including monuments and museums.
About 01:30 local time (05:30 GMT) on Friday, a tourist at the Lincoln Memorial on the Mall discovered the sculpture there of Abraham Lincoln, America's 16th president, had been splattered with green paint.
The memorial was closed on Friday as a crew cleaned the monument.