Samantha Power confirmed as Obama's UN ambassador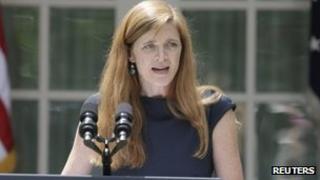 The US Senate has confirmed Irish-born Harvard scholar and human rights researcher Samantha Power as President Barack Obama's ambassador to the UN.
Her nomination was approved 87-10, continuing a trend in which the Senate has confirmed Mr Obama's appointments with bipartisan majorities.
Ms Power, a former White House adviser, replaces Susan Rice, now Mr Obama's national security adviser.
Mr Obama called her "a long-time champion of human rights and dignity".
Though her appointment initially drew opposition from Republicans and their conservative backers, Ms Power was easily confirmed under the terms of a deal struck recently between the majority Democrats and the Republicans, who have frequently used their power under the Senate rules to block confirmation of Mr Obama's appointments.
'Leading thinker'
Under the deal, described in Washington DC as a truce between the two parties, the minority Republicans in the Senate agreed to allow confirmation of seven of Mr Obama's cabinet and other appointments.
In exchange, the Democrats agreed not to change the Senate rules to diminish the power of the minority to block other nominations, including judgeships.
"As one of our country's leading foreign policy thinkers, Samantha knows that our nation's interests are advanced with strong and principled American leadership," Mr Obama said in a statement released by the White House after the vote.
"As a long-time champion of human rights and dignity, she will be a fierce advocate for universal rights, fundamental freedoms and US national interests."
Among the Republicans voting against her was Marco Rubio of Florida, tipped as a possible presidential candidate in 2016.
Mr Rubio said he doubted Ms Power's willingness to push for a UN that was "more accountable, that it is more effective and that it is just not some multilateral ideal in which we invest all of our hopes".
Ms Power was born in Ireland and wrote a Pulitzer Prize-winning book on America's foreign policy response to genocide. She was a foreign policy adviser to Mr Obama's 2008 presidential campaign, and subsequently worked as an adviser in the White House.
In June, Mr Obama named Ms Rice his national security adviser. That position does not require Senate confirmation.