Shaaliver Douse shot dead by New York City police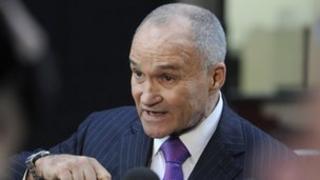 A teenager has been killed by New York City police after he pointed a pistol at two officers, police have said.
Shaaliver Douse, 14, shot in the jaw, may be the youngest person ever killed by New York police, an official said.
The police officers - who had recently graduated from police academy - were on foot patrol when they heard a gunshot in the early hours of Sunday morning.
When they arrived at the scene they saw the teenager firing at a man who was fleeing from him, police said.
The shooting occurred in a rough neighbourhood in New York's Bronx borough.
In security footage released by the police, Shaaliver can be seen in a white T-shirt and jeans, firing at a group of people standing outside a corner shop.
He is then seen chasing one of them. According to the police, Shaaliver fired four shots.
"The officers ordered Douse to drop the gun but instead he fired another round," said New York Police Commissioner Raymond Kelly.
"It is undetermined at this time whether he fired at the officers or a fourth time at the unknown male who had just run past the officers."
Mr Kelly said Shaaliver was the youngest victim of a police shooting that he could recall and offered his condolences to the teenager's mother.
"Regardless of the circumstances, this is a crushing blow to any parent," Mr Kelly said.
Mr Kelly also said police were investigating the origin of Shaaliver's gun, suggesting it may have come from outside New York state, which has strict gun control laws.
Shaaliver had previously been in trouble with the law, local media report.
In May, he was charged with the attempted murder of a 15-year-old boy in his neighbourhood and also faced charges of assault, menacing and criminal possession of a weapon in relation to the incident.
He was pronounced dead at the scene.