Venice Beach car rampage kills Italian honeymoon bride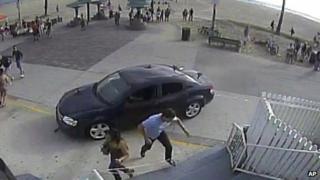 The family of a honeymooning tourist killed when a man ploughed a car into a crowd in California's Venice Beach have said she was "robbed of her life".
Alice Gruppioni, 32, died on Saturday, in what her family described as "a tremendous injustice" in a statement released to US media.
Her husband is thought to be among 11 other people who were injured.
A 38-year-old man was arrested after giving himself up to police in nearby Santa Monica.
Nathan Campbell could face formal charges as early as Tuesday. Police have indicated they do not think anyone else was involved.
'Senseless and heinous'
His bail has been set at $1m (£650,000).
Footage from a security video taken shortly before the incident and aired on US television showed a man parking a car, getting out and scanning the area.
He then got back into the vehicle and drove into the crowd, travelling at least 35mph (56km/h), witnesses said.
Another person was critically injured. Among those hit were at least three vendors, a fortune teller, a couple selling jewellery and a woman tattoo artist.
Onlooker Louisa Hodge told the Associated Press news agency that victims were "stumbling around, blood dripping down their legs, looking confused not knowing what had happened, people screaming".
Flowers and cards have been left in tribute at the spot where Ms Gruppioni was killed. She was reported to be a general manager for her family's radiator business.
"She was robbed of her life while living her dream visit to California with her husband and this was a tremendous injustice," the family said in a statement.
A vigil and fundraising event was due to take place on Monday evening close to the scene.
"It was their honeymoon. They were very excited to explore Los Angeles," Italian consul general Giuseppe Perrone said of Ms Gruppioni and her husband.
"All of a sudden they were faced with this horrible tragedy. It is just such a senseless and heinous act," he told CBS news.