Utah teenager admits killing referee who called foul on him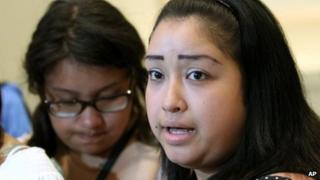 A US teenager who killed a soccer referee by punching him in the head has pleaded guilty to homicide by assault.
Ricardo Portillo, 46, died after a week spent in a coma following the assault during a game in Salt Lake City, Utah.
The 17-year-old player, who will be convicted as a juvenile as part of a plea deal, struck Portillo in April as he called a foul on him.
The teenager told a court he acted impulsively, but took full responsibility for the death.
Speaking calmly during Monday's hearing, he said to Portillo's family: "I'm sorry for everything I've done."
A juvenile judge has ordered the teenager, who has not been identified because of his age, to put up a picture in his cell of Portillo and to write the dead man's daughters a letter every week, in order to be reminded of the pain he has caused the family.
He faces up to just over three years in prison, until he turns 21. His eventual prison term will be decided by a juvenile parole board.
The adult charge of homicide by assault carried up to a five-year prison sentence.
Two of the football referee's three daughters spoke in court on Monday, saying their father's death had destroyed the family.
"I don't think you'll ever understand how much pain and suffering you made us go through," said Ana Portillo, 21.
"We just wish you had taken a deep breath before you did what you did. You have to change.''
According to a police report, the incident happened during a game at a high school in a suburb of Salt Lake City.
The teenager was playing as a goalkeeper when Portillo showed him a yellow card for shoving a player on the opposing team who was attempting to score.
After arguing with the referee, the teenager punched him. Portillo sat down and began vomiting blood.
He was taken to hospital and slipped into a coma with swelling on his brain.
Prosecutors said the juvenile charge plea deal was fair, but the Salt Lake County district attorney's office originally said they wanted the accused tried as an adult due to the seriousness of the assault, and because he was set to turn 18 in less than three months.