Obama urges 'wind down' of Fannie Mae and Freddie Mac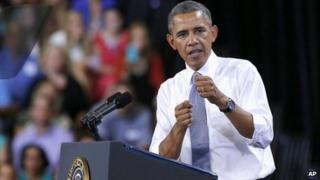 US President Barack Obama has urged a revamp of the housing market that would "wind down" government-owned mortgage giants Fannie Mae and Freddie Mac.
Speaking in Arizona, Mr Obama said action was needed to ensure that the rebounding US property market does not simply "re-inflate the housing bubble".
He wants to replace the two lenders with a system leaving the onus of loan risk primarily on the private sector.
The US had to prop up Fannie Mae and Freddie Mac in the 2007-09 recession.
The two companies cost taxpayers $187bn (£122bn) as they lurched towards bankruptcy. They have since returned to profitability, repaying some $132bn to the government.
'Bets went bad'
Speaking at a high school in Phoenix on Tuesday, Mr Obama said it was time to "turn the page on this kind of bubble-and-bust mentality".
"For too long these companies were allowed to make huge profits buying mortgages, knowing that if their bets went bad, taxpayers would be left holding the bag," the president said.
"It was 'heads we win, tails, you lose.' And it was wrong."
Under his plan, the government would still provide oversight of the housing market and act as secondary loan guarantor, after the private sector.
His blueprint for reform is largely in line with a bipartisan proposal in the US Senate that would wind down Fannie Mae and Freddie Mac within five years.
Mr Obama said any overhaul of the system should leave in place wide access to 30-year mortgages at fixed rates.
The president also urged Congress to pass long-delayed legislation to make it easier for homeowners to refinance their loans at lower interest rates.
His trip to Arizona was part of a summertime tour aimed at boosting public support for his economic policies ahead of budget negotiations with Republicans this autumn.