China tea set found intact in US plane wreckage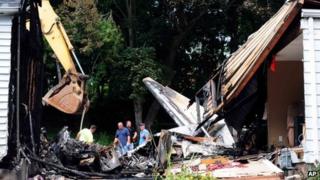 A china tea set bought by a 17-year-old as a present for his mother has been recovered largely unscathed from the wreckage of a US plane crash which killed the teenager and three others.
With the exception of a chip on the teapot's spout, the set was intact, said police in East Haven, Connecticut, where the aircraft crashed last Friday.
Former Microsoft executive Bill Henningsgaard and son Maxwell were in the propeller-driven plane. Both died.
On the ground, two children died.
Sade Brantley, 13, and Madisyn Mitchell, one, were killed as the aircraft dived into two houses.
The cause of the crash remains unclear.
Officials with the National Saftey Transportation Board said the plane was upside down when it went down near New Haven's Tweed Airport. The pilot did not declare an emergency before the crash.
Susan Henningsgaard told officials her son Maxwell bought the tea set for her last week while on a tour of colleges with his father, police said.
East Haven deputy police chief John Mannion said he planned to pack the tea set, which had been inside a compartment in the plane's tail section, and send it on to the grieving mother.
"That's a remembrance of a sad day, but a loving son," he said.